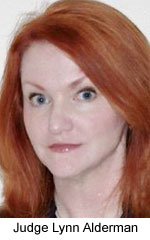 Georgia Gov. Nathan Deal accepted the resignation of Enotah Circuit Superior Court Judge Lynn Alderman on Tuesday morning, the Towns County Herald has learned.
Judge Alderman resigned from the bench following the signing of a consent order agreement with the Georgia Judicial Qualifications Commission, according to the JQC Web site. According to a copy of the consent order, the commission was investigating Judge Alderman for alleged judicial misconduct regarding professional influence involving the criminal case of Charles Steven Stringer, a convicted methamphetamine trafficker.
Judge Alderman signed the consent order at the end of the day on Monday in Towns County. JQC Investigator Richard Hyde was in the courthouse parking lot all day, the Towns County Herald has learned.
According to Judge Alderman's letter of resignation to Gov. Deal, she had discussed her resignation with her colleagues on the Enotah Circuit bench over the past few months. However, the untimely resignation of Enotah Circuit Senior Superior Court Judge David Barrett delayed Judge Alderman's resignation.
Judge Alderman asked Gov. Deal to quickly appoint two well-qualified judges to the Enotah Circuit to fill the void left by her departure and Judge Barrett's departure. Gov. Deal accepted Judge Alderman's resignation on Tuesday, according to a copy of the letter obtained by the Towns County Herald.
The consent order resolves any charges in the JQC investigation, according to the JQC Web site.
Judge Alderman will not seek, request, or accept an elected or appointed judgeship, she does not qualify for senior judge status, and the prohibition begins immediately and carries forward permanently, according to the JQC Web site.
The resignation is effective on Friday, March 30th, at 11:59 p.m., according to the consent order and Judge Alderman's letter of resignation.
Stringer was convicted in 2006 of possession of methamphetamine with intent to distribute in Lumpkin County and sentenced to 10 years in state prison – he served two. He was convicted in Forsyth County for trafficking methamphetamine and sentenced to 15 years in state prison. He also was convicted of violating motor vehicle law and possession of firearm during the commission of a felony, according to the Georgia Department of Corrections Web site.
Stringer was mistakenly freed in 2008 after serving two years of the Lumpkin County sentence related to his Forsyth County conviction. The Forsyth County paperwork never reached the Georgia Department of Corrections. He was remanded back to state prison by Forsyth County Superior Court Judge Jeff Bagley last April, who handled the original sentence.
The resentence of Stringer followed contact with Judge Bagley by Judge Alderman and several politicians, Judge Bagley disclosed in open Court in March 2011. Alderman denied trying to influence Judge Bagley. The politicians linked to speaking with Judge Bagley on Stringer's behalf include State Rep. Carl Rogers, R-Gainesville, State Sen. Steven Gooch, R-Dahlonega and State Sen. Butch Miller, R-Gainesville.
According to the Georgia Department of Corrections Web site, Stringer was paroled from state prison on Sept. 7th, 2011.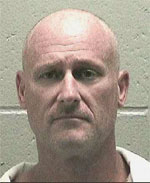 Charles Steven Stringer